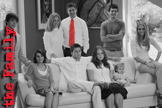 We're instigating a grass roots viral video campaign on YouTube to get Hot Lava Monster's BRAND new song onto the soundtrack of Breaking Dawn, the fourth movie in the Twilight series.
South Carolina high school students from Ridge View, Blythewood, AC Flora and Lakewood all participated. Locations include a famous Columbia home, the Clemson Research facility, and Ridge View high school. Dr. Martin, principal of Ridge View HS, and his director of student activities, Lisa Ellis were instrumental in making this project happen. Monica Wyche, drama teacher at Blythewood HS and well-known, local actress cast Bella and Edward. Both high schools released the video on their closed circuit TV systems. One goal is to get 200,000 hits on YouTube prior to the release of New Moon out on November 20. There are many adult cast members from various industries who donated their time to being in the film. Lee Ann Kornegay and Wade Sellers both shot, help directed, and Wade (Coal Powered Filmworks) edited. Another goal is to get a new generation involved with Hot Lava Monster's music by creating a positive, fun, publicity campaign to get the song into a mainstream movie. the Rocumentarian thinks it is time that South Carolina got some POSITIVE publicity on a national scale. This video encompasses all four books, has a cast of about 50 people, 4 locations, and was all done as a volunteer basis to support a very talented local band that we all want to see make it outside of Columbia, SC.
Columbia loves Hot Lava Monster and knows everyone else will, if they just get the chance!
Help us get this song into Breaking Dawn!
the Rocumentarian